Pressure Treated Plywood
Pressure treated plywood is impregnated with preservative by a pressure process. This treatment process helps protect plywood over its lifespan against rot and decay allowing for longer and more reliable lifespans.
Applications:
-Wood foundations
-Retaining walls
-Decks, docks, piers, and floats
-Industrial applications, storage, etc.
Available Sizes:

Recommended Fasteners:
Hot dipped galvanized steel or stainless steel
Treated Plywood Safety Data Sheet
Treated Plywood KDAT Spec Sheet
---
Fire Treated Plywood
Fire treated plywood is specially treated with chemicals that provide a physical barrier to flame spread. The treated wood chars, but does not oxidize, which significantly reduces the spread and progress of fire in a building. Certain plywoods are also graded "Exterior" which gives it both a fire retardant rating, and a pressure treatment that makes it resistant to rot and decay.
Available Sizes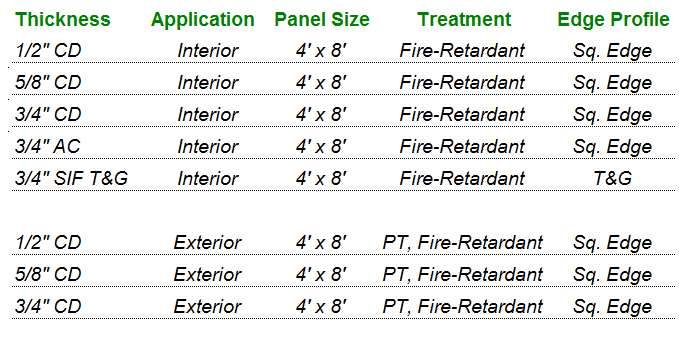 Recommended Fasteners:
Hot dipped galvanized steel or stainless steel