Fine Line Shiplap Paneling
Shiplap - one of the hottest trends of 2016 - is now available in a custom milled pattern. Our Fine Line pattern gives you the look of shiplap, with a perfect 1/8" gap in between each board to give you the desired "nickel gap" effect. If you don't want the gap, simply use the reverse side for a flush joint.
Our shiplap is a ESLP White Pine which has small knots and a tight uniform grain. It has a smooth sanded face that takes paint exceptionally well.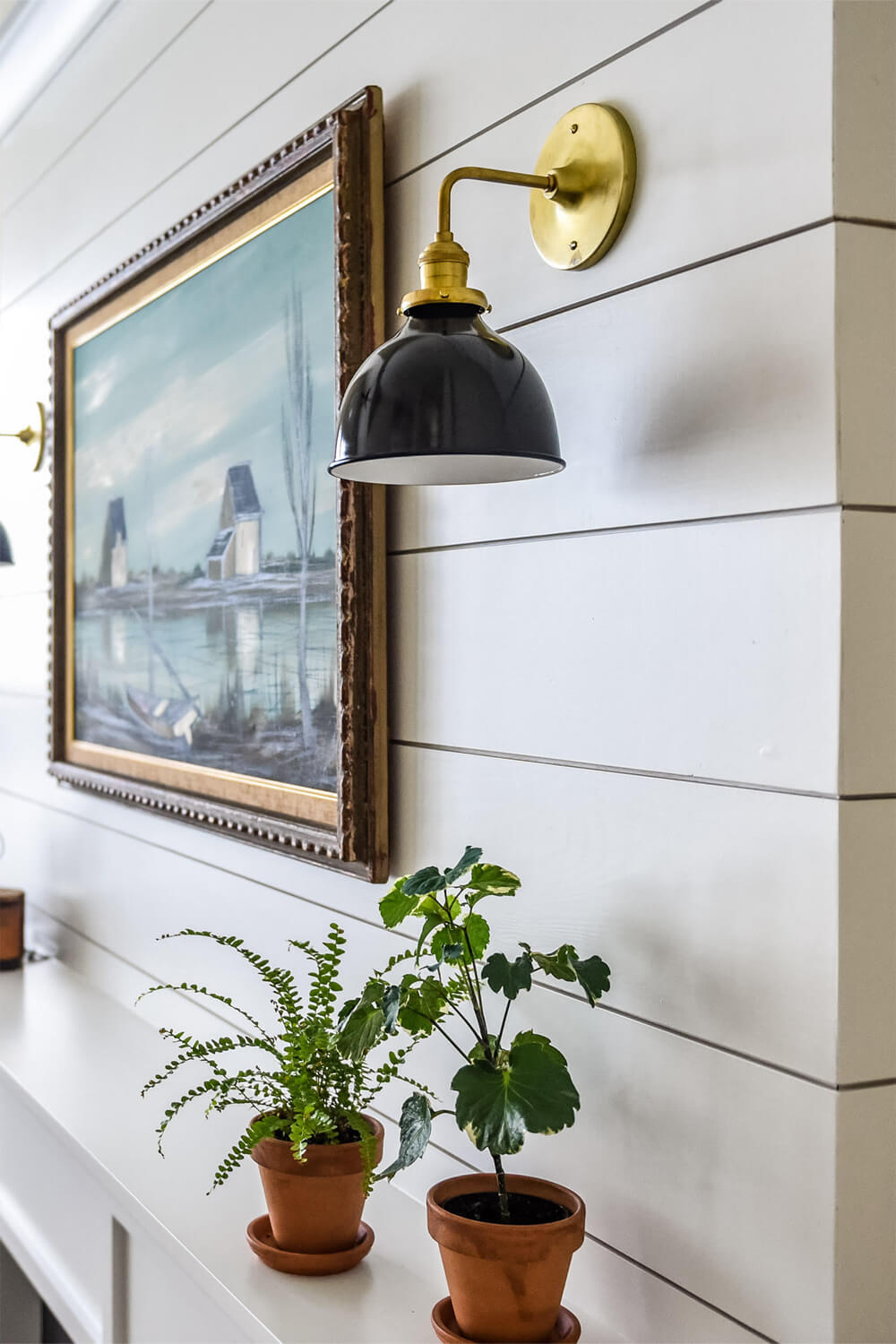 1x6 Shiplap
5" Exposure, 240 LF/Sq.

1x8 Shiplap
6 ¾" Exposure, 178 LF/Sq.

Interfor Fineline Product Brochure
FAQ's
I've been looking for shiplap everywhere, how do I know this is the right one?
We did a lot of research and worked with domestic mills to create a custom milled pattern that perfectly fits customer needs. At the end of the day, we identified that the most important features were the following:
1) A 1/8" nickel gap reveal
2) Affordability
3) Carpenter friendly and workability
4) Long lengths up to 16'
5) Ability to take different paints, stains, and washes
Taking all of those needs, we came up with this shiplap product, and we truly believe it's the right product for you.
What size shiplap should I use?
The most common seller is the 1x8, and this really works best for larger rooms, hallways, and ceilings. The 1x6 is a smaller reveal, so it looks best in tighter areas such as bathrooms, mud rooms, and laundry rooms.
Can I install this directly to the studs and skip the drywall step?
Yes, and it's fast and easy! Installed shiplap will cost you roughly the same as installed drywall. However certain municipalities still require sheet rock per local building code.
Can I install this directly over my drywall?
Absolutely, but you'll still want to fasten to the studs where possible, and you'll need to be careful of your interior window and door trim. Make sure you plan ahead and evaluate your current door and window trim. Our shiplap is 3/4" thick, so you could lose your shadow line if you have a thin reveal on your current trim.
I want a crisp white look, how should I paint my shiplap to achieve this look?
Once installed, apply a even coat of primer. Next, use wood filler on any knots, voids, or nail holes along the boards. Let the wood filler dry, and then sand the face of the board to achieve a level surface. Now apply a second coat of primer - this second coat of primer is very important! Finally - apply two to three coats of a high quality acrylic latex paint, and enjoy a beautiful crisp white wall. See the video below to learn more about painting.
---
Contact Us
Contact us below to get pricing:
---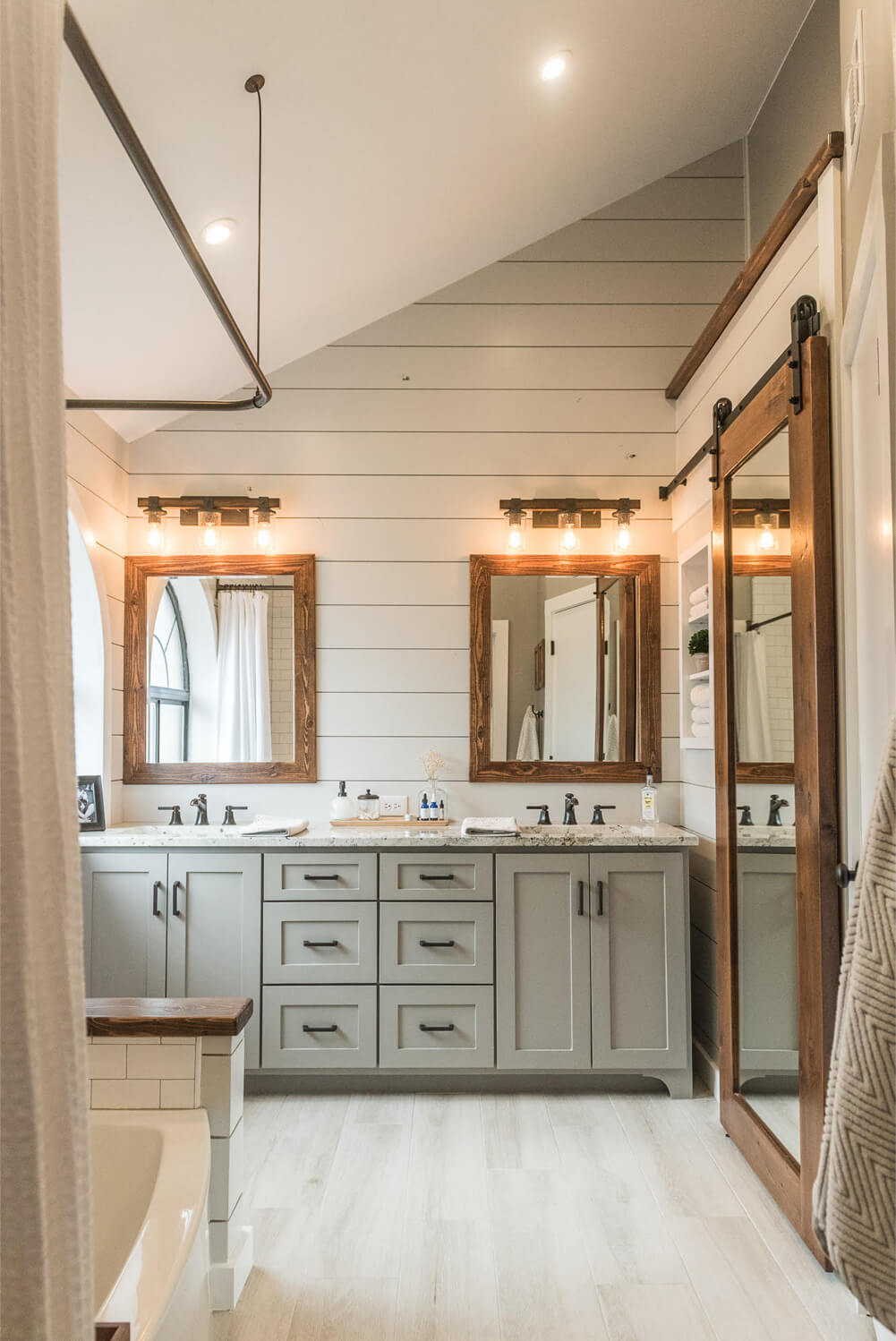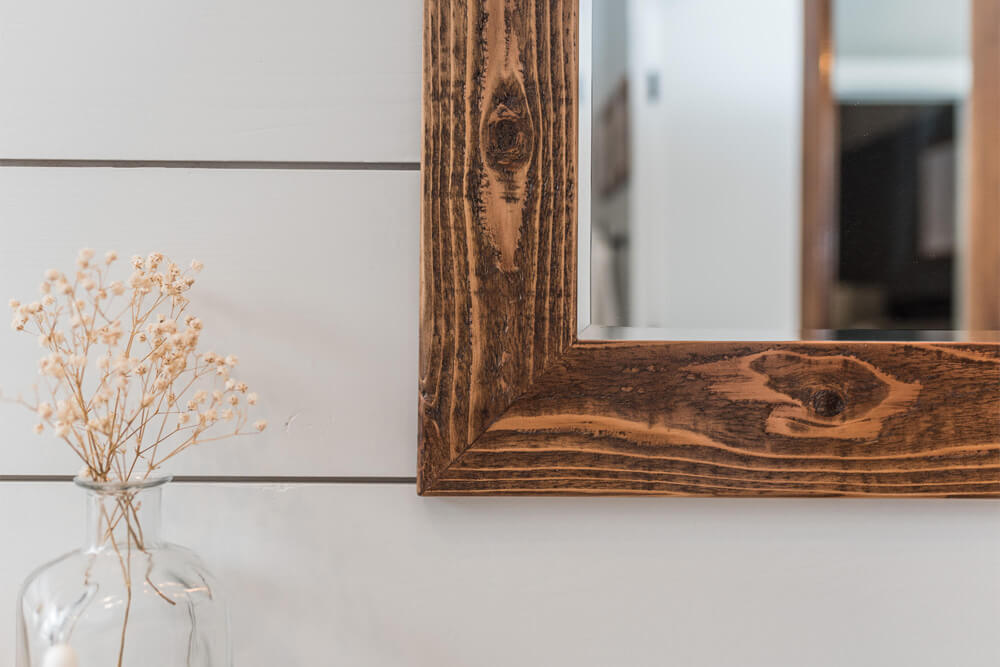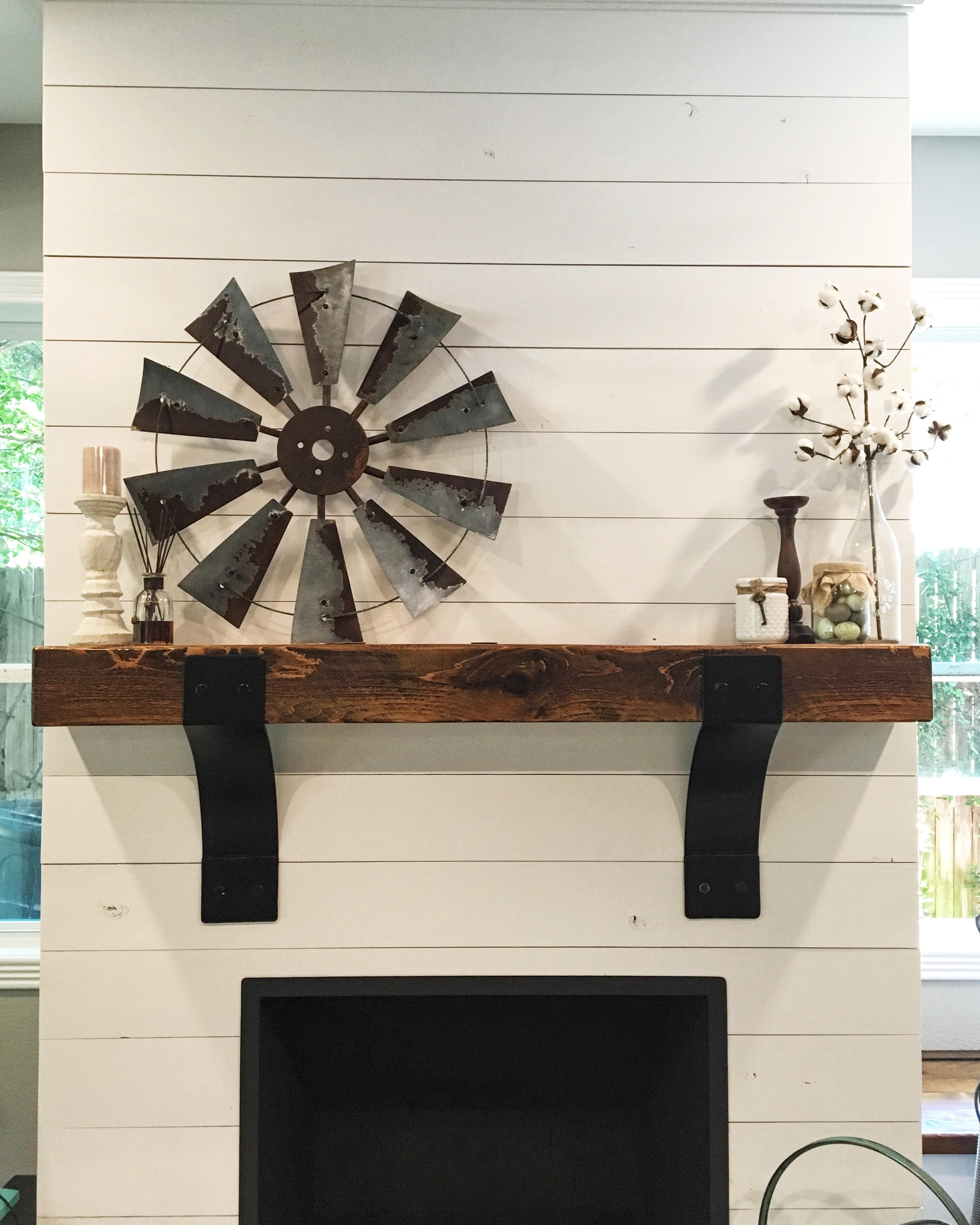 Whitewashed Shiplap: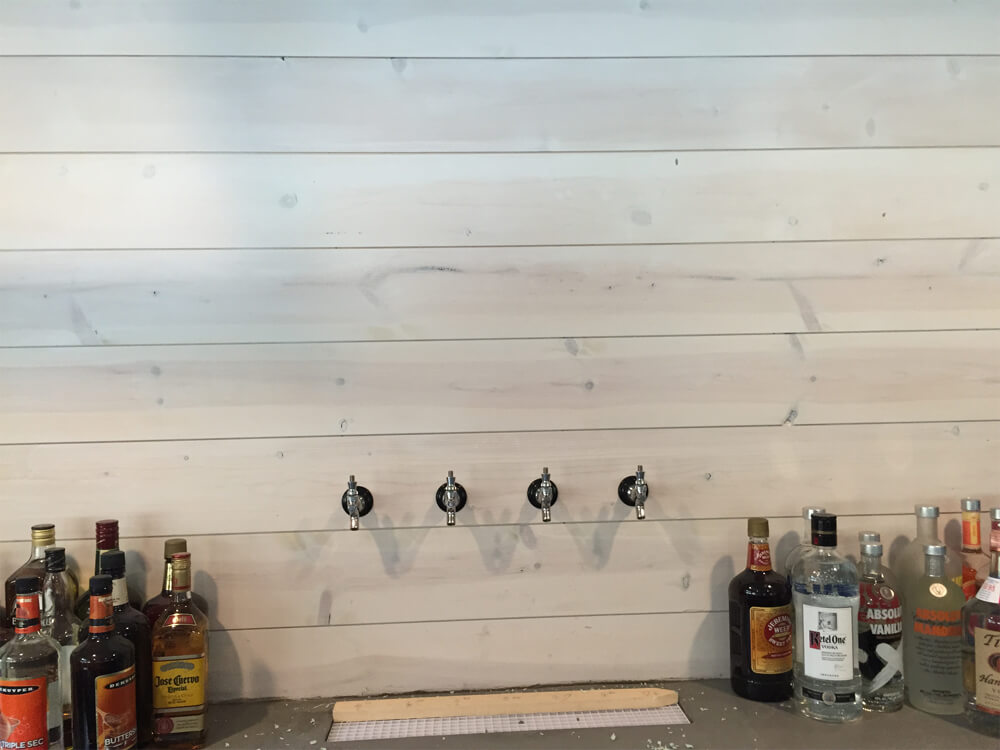 Side Profile Installed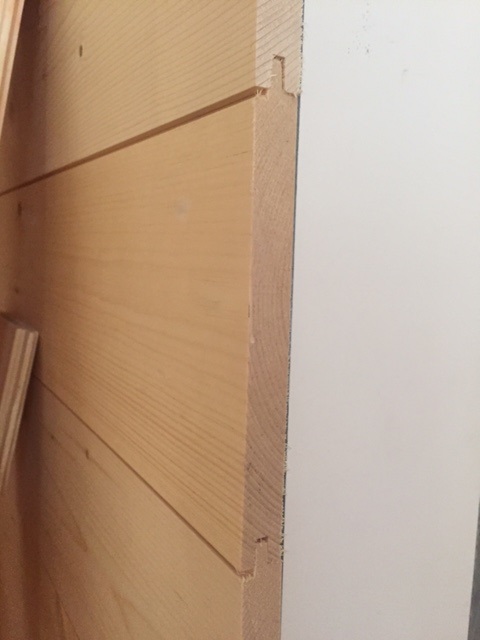 Nailing
-When fastening, you have two options. You can A) use your finish nails and fasten through tongue, as shown below (this nail head will then get covered when you paint). Or B) you can face nail into the studs, two nails per piece (top and bottom) per stud. It's recommended to fill face nailed heads with wood filler before painting.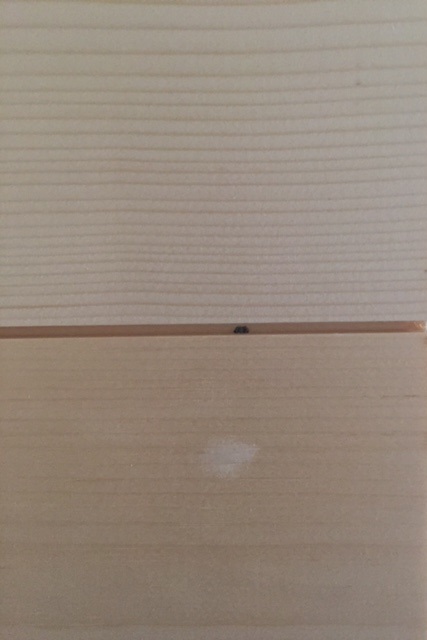 "Raw" Shiplap before painting
-Material comes sub-bundled in packs of four for easy handling

Accessories & Tools Needed: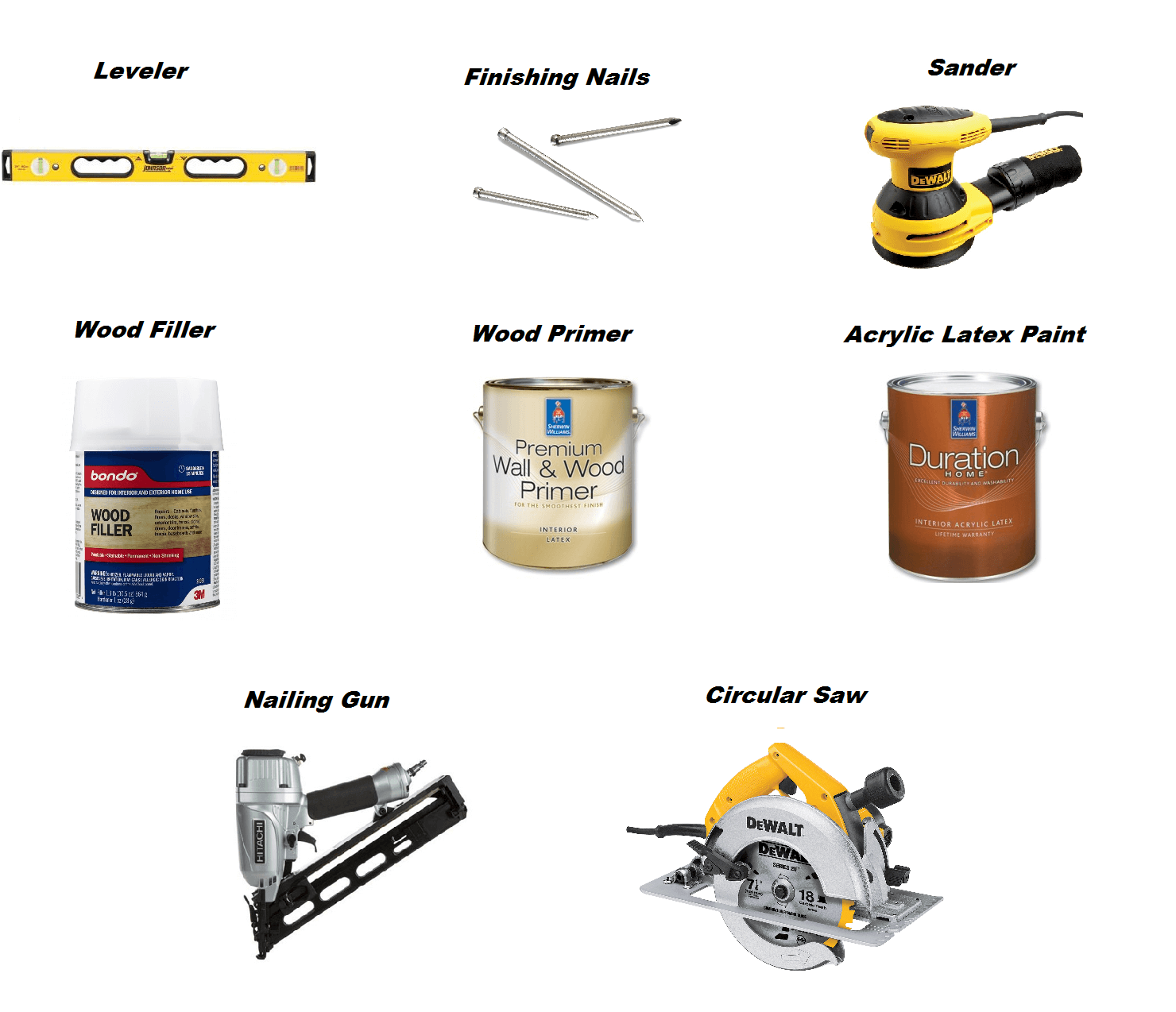 Installing T&G Wood Paneling on a Ceilling
Painting T&G Wood Paneling
---
Why ESLP White Pine?
ESLP (Englemann Spruce / Lodgepole Pine) are some of America's abundant tree species, and are completely sustainable. There are three main benefits to White Pine over other wood species:
1) Color & Grain
White Pine has a minimal amount of reddish-brown heartwood and an exceptionally wide sapwood which is honey-toned or straw-like in color. It has a straight, uniform grain which machines to a clear, smooth surface. This means that it will take paint or stain exceptionally well, leaving a smooth even coat.
2) Dimensional Stability
All woods shrink and swell to some degree as their moisture content fluctuates with atmospheric conditions. However, White Pine is relatively unaffected by changes in humidity after drying, making it valuable for work that requires close-fitting joints. It has a uniform cell structure and shrinks only a moderate amount, in comparison to other softwood species. It seasons beautifully with minimal splitting, cupping, or warping.
3) Workability
Due to it's unique properties, White Pine is very user friendly, and will not splinter or split when cutting and nailing. This makes it ideal for unique craft projects like shelving, cabinet, and paneling where precision is required.